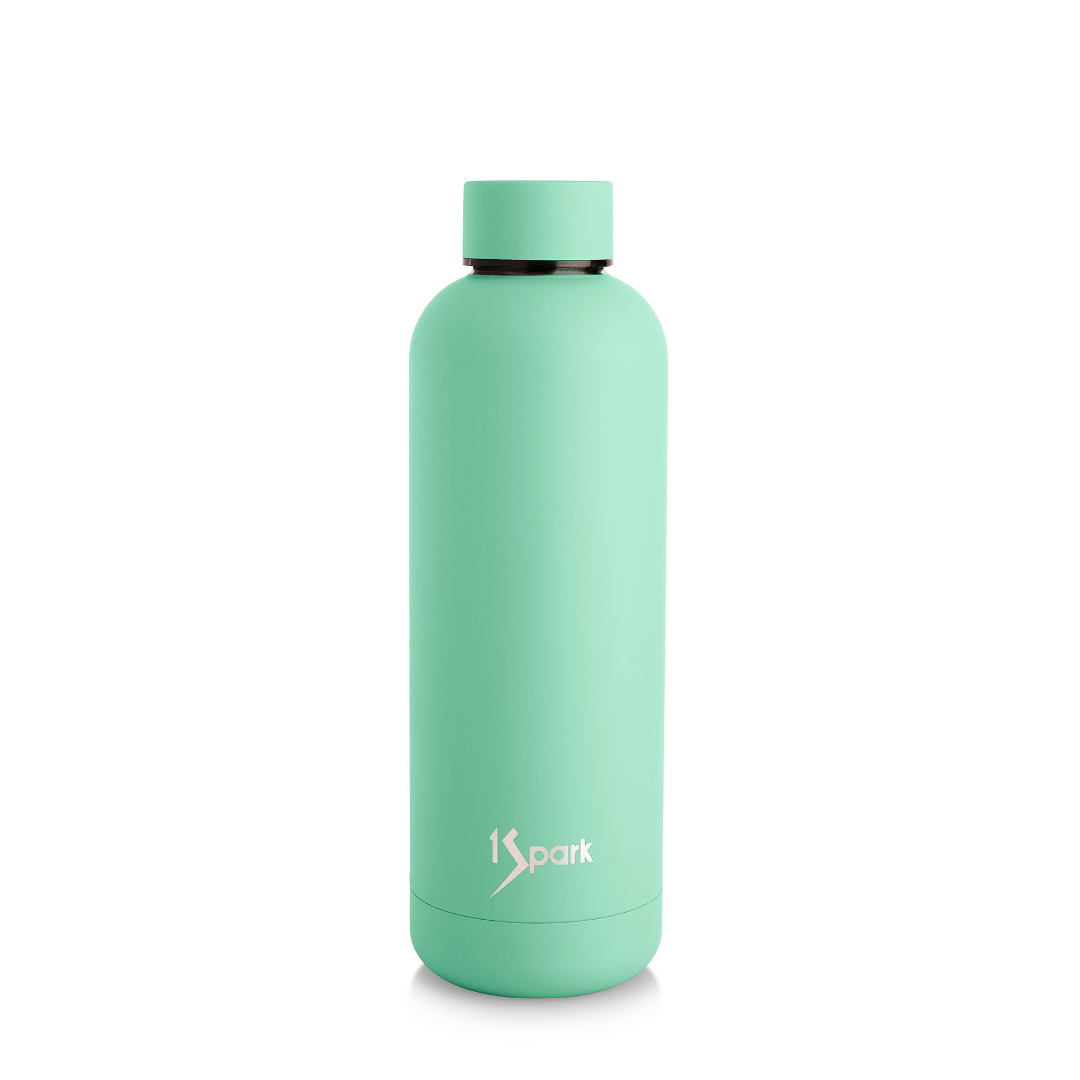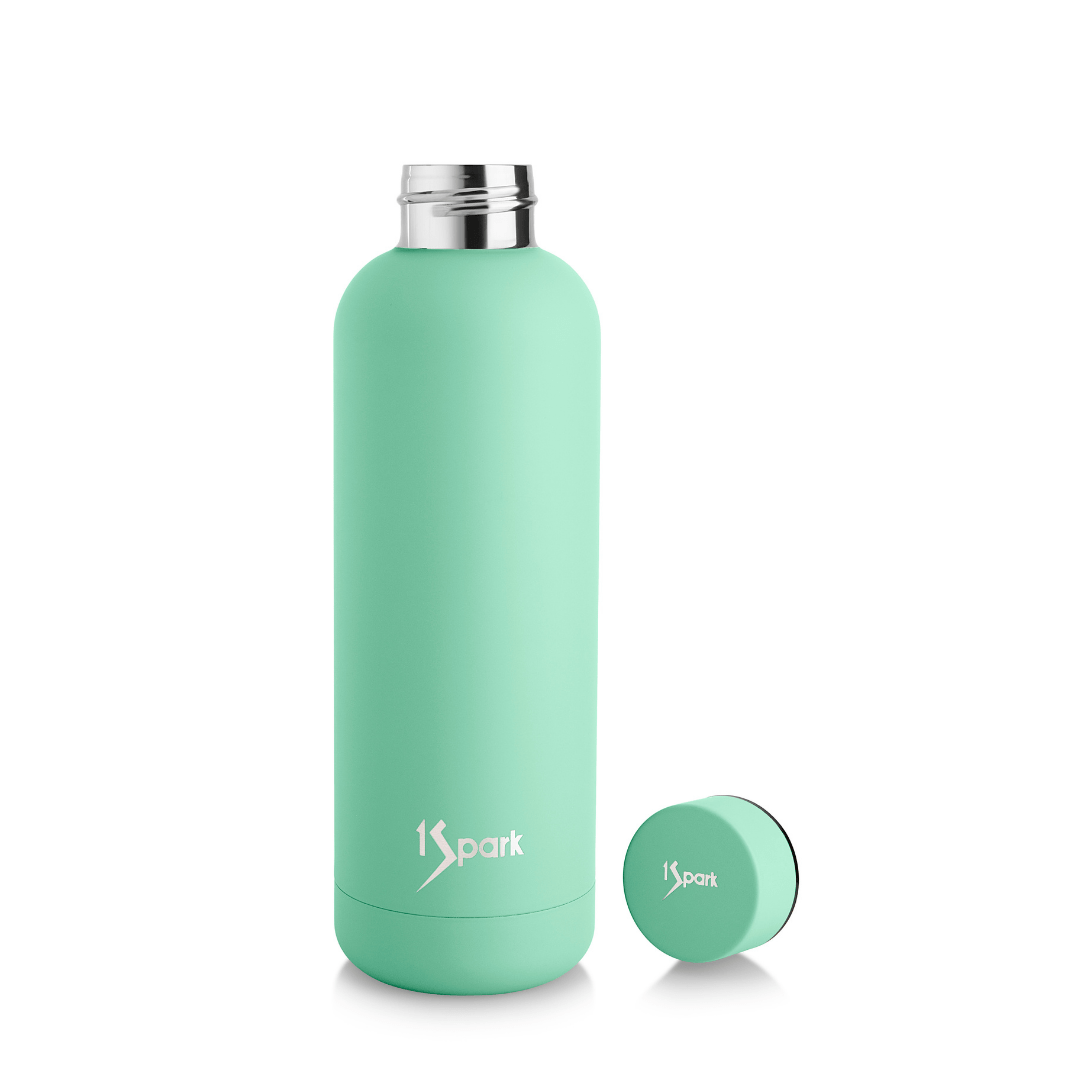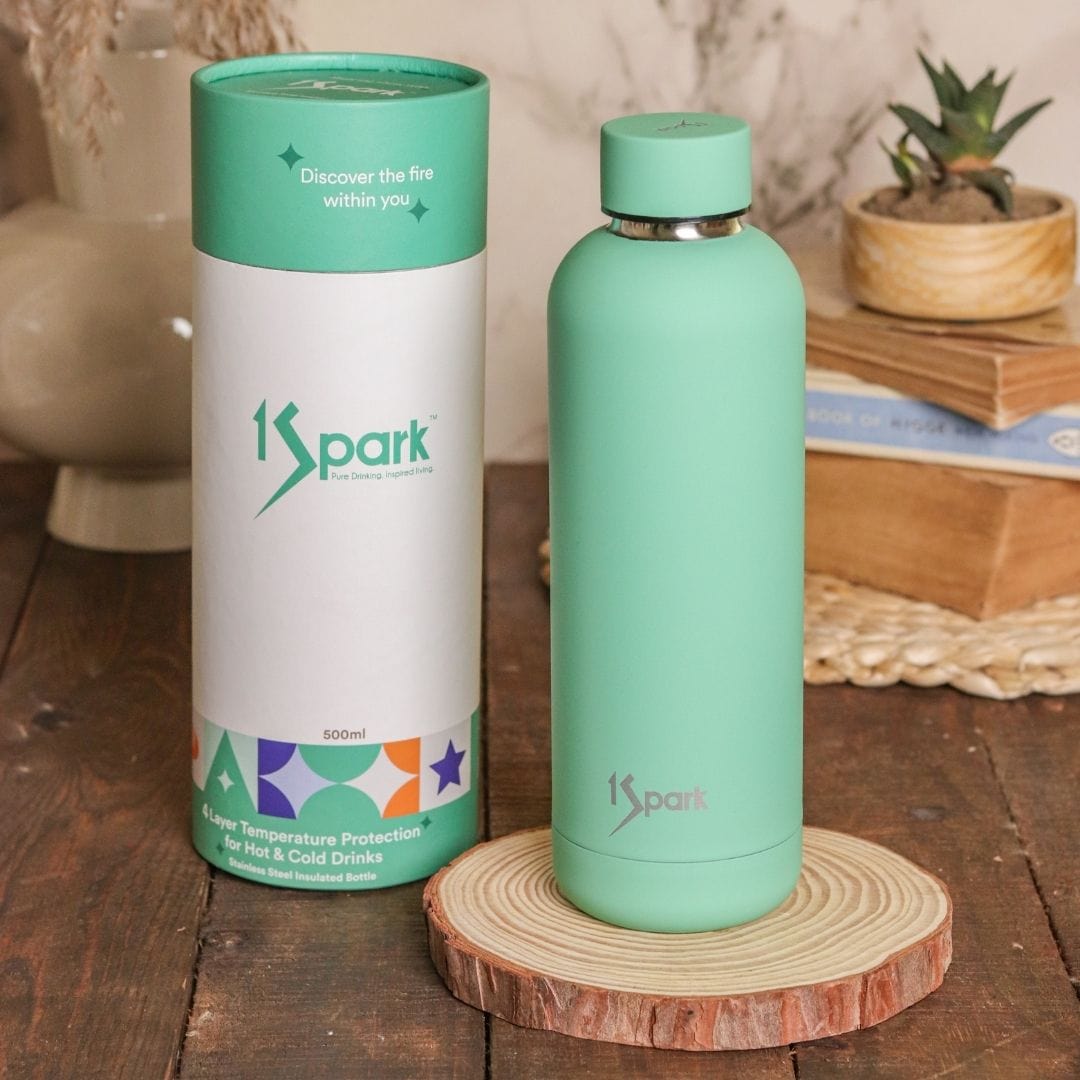 Heart Steeler - Mint
₹ 1,499.00
Regular price
₹ 1,899.00
Subscription • Save
Description
Stealing your Heart
Giving your day a kick-start
Insulation, a class apart


3 things that our Heart Steeler Triple Insulated Bottle does absolute best.
T
he ultimate companion for all your hydration needs: it is b
eautifully crafted from premium 18/8 Stainless Steel with a luxe satin finish. Leak-proof and BPA
-
free,
this 4-layer Insulated Bottle is all about stylish sustainability and effective hydration. 

From savouring your morning coffee to staying hydrated during workouts or enjoying a refreshing beverage on a hot summer day, this bottle ensures that your drinks stay at the perfect temperature, sip after sip.

Experience the perfect fusion of style, durability, and functionality with our Triple Insulated Steel Bottle.
Benefits
✨12 Hrs hot and 24 Hrs cold
✨ Leakproof and Odour-free
✨ Lightweight with soft satin finish|
✨ Dishwasher friendly
✨ 1 Year Warranty 
✨Free Shipping & Returns 
✨COD Available
Heart Steeler - Mint
₹ 1,499.00
Regular price
₹ 1,899.00
Light in Weight
Heartwarming in Performance
Keeps your favourite drinks cold for up to 24 hours and hot for 12 hours. 
So you get the insulation properties of a bulky flask in a slim, exquisite bottle!
Drink to
your heart's desire
With no flavour transfer, you have 1Bottle for your multiple drinking needs.
Fill it with water or
✓ Hot drinks like Green Tea, Coffee, Soups
✓ Cold favourites like Smoothies, Shakes, etc. 
Whatever you're sipping, keep it fresh and at the right temperature.
Packed with Care
Sealed with love
Product to Packaging, Heart Steeler is 100% Recyclable, Reusable & Refillable. You can reuse the packaging for storing candies, keeping stationery, etc.
Not just good looking
Great for your health & nature's wealth 
Every 1 minute, 1 million Plastic Bottles are bought worldwide. Each taking 450+ years to get recycled.
1 Decision can Spark a Wildfire of Change. 
Our 100% Recyclable, Reusable Range is crafted to meet your active lifestyle without compromising on taste and style. Use it for just over 15 days and you'll have offset the environmental impact of making it
Helpful details, we hope!
Product FAQ
Can I put my bottle in the fridge? Or, microwave?
No, Heart Steeler is crafted to keep your drink warm for up to 12 hours and cold for up to 24 hours without being affected by external conditions. Therefore, putting it in the microwave or fridge will interfere with its insulation properties and void the warranty.  We recommend chilling or heating your beverage to the desired temperature before using your Heart Steeler Thermo Bottle
Materials & Size
Materials
• 18/8 high-quality Stainless Steel
• 100% BPA, BPS, BPF free, PP lid

Dimensions  
• 17 oz / 500 ml
• 7 L x 7 W x 23 H (cms)
Cleaning & Care
Ah! the feeling of running your hands through warm, soapy water at the end of the day is second to none. We recommend you share the same feeling with your Heart Steeler and wash it after every use.
Post wash -  store upside down, without the lid on.
Do not microwave or freeze your bottle.
Orders, Shipping & Returns
Orders & Shipping
• Orders will be processed within 24 hours on business days. (Monday - Saturday)
• Shipping is free on all products, across India. Yay! 

Delivery & Tracking
• Once your order is packed, you'll receive tracking details via email and SMS.
• Delivery timelines vary between 2-6 days depending on location.

Returns 
• Products received in damaged condition will be replaced immediately.
• Free returns can be made within 7 days of the delivery date. It's simple, if you're not happy then we're not happy.

Read our easy return policy here.