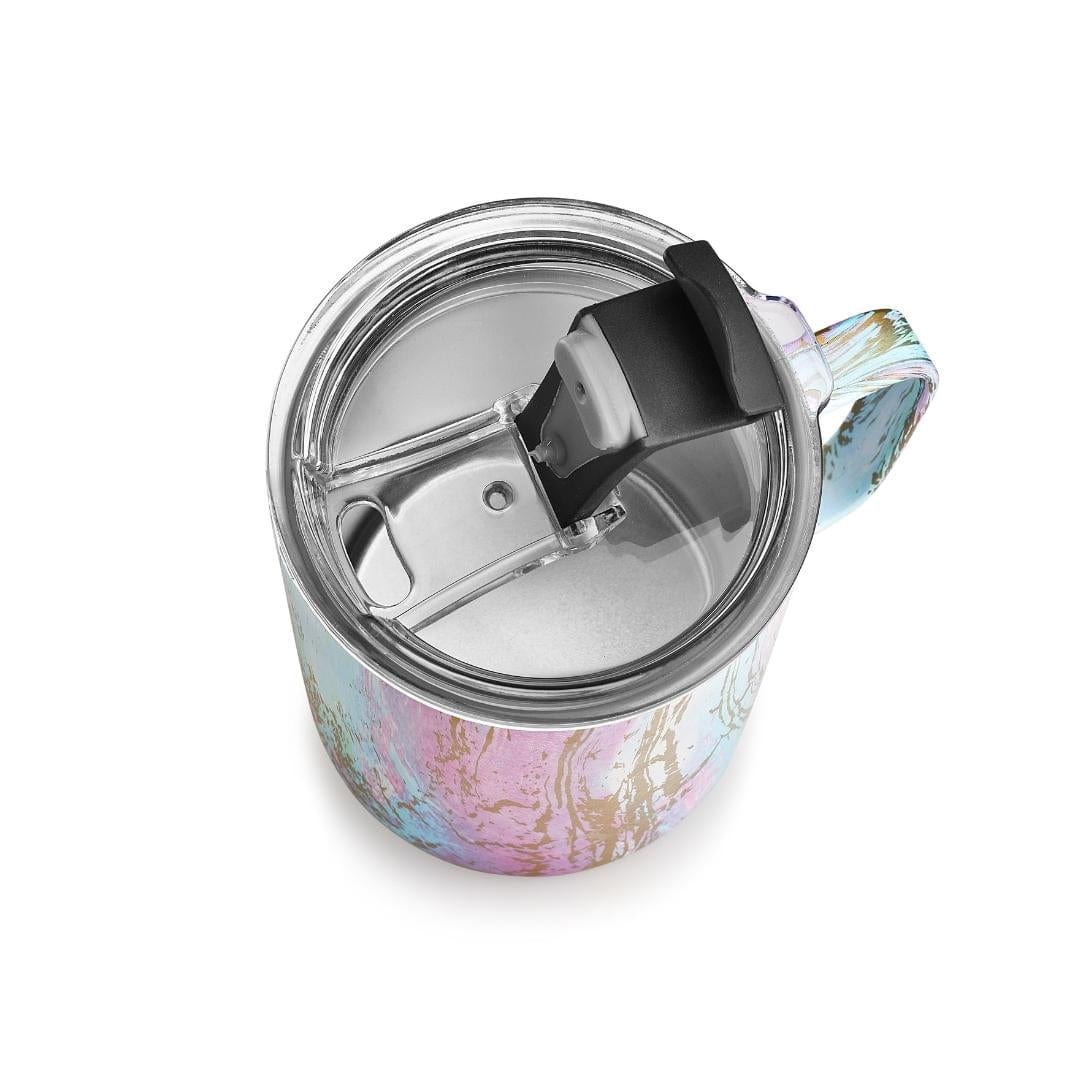 Boss Insulated Mug - Paint Splash
₹ 1,199.00
Regular price
₹ 1,499.00
Subscription • Save
Description
Have you ever poured yourself a hot beverage and accidentally forgotten about it because you got a call? It's the worst! Here's where the Boss Thermo Mug steps up. Triple Vacuum Insulated and shatter-proof, it keeps your drink fresh and at its ideal temperature for hours. With the clear, flip lid snapped down, it's splashproof, as well. Plus, the exterior won't sweat. So goodbye, coasters!

Right or left-handed, home or on the go, a hot or cold beverage, coffee or cocktails – Boss Mug is super-versatile and the last mug you will ever need.

Ready to steel this deal? ;)
Benefits
✨ 4 Hrs Hot | 6 Hrs Cold
✨ Splash-resistant flip lid
✨ Unbreakable Mug with wide opening for easy cleaning
✨ 1 Year Warranty on Thermal Insulation
✨Free Shipping & Returns
✨COD Available
Boss Insulated Mug - Paint Splash
₹ 1,199.00
Regular price
₹ 1,499.00
Top-to-bottom
Advanced Triple Insulation
Loaded with 4 layers of solid insulation to keep your drink hotter, colder and fresher from the first pour to the last sip.
Some like it hot. Some like it cold
How about both?
Our Triple Insulated Mug is the ultimate beverage companion for those who appreciate their drinks at the perfect temperature. No matter the drink, Boss Mugs has all the ingredients you need for happy, comfy sipping.
Beauty in looks. Beast in Performance
Paint Splash Prints
An elegant play of colours and textures. Pops of subtle and contrasting combinations for a calm feel.
Packed like a Boss
Sealed with Love
Product to Packaging - Boss Mug is 100% BPA free, Recyclable, Reusable & Refillable. You can reuse the packaging for storing candies, keeping stationery, etc. 

Sip Sip Hooray!
Good for you
Great for the Planet
Every year, 500 billion plastic cups are used and thrown. Each taking an unbelievable 450+ years to get recycled!

1 Decision can Spark a Wildfire of Change ✨
Boss Mug is 100% Recyclable and Reusable. Use it for just over 24 days and you'll have offset the environmental impact of making it.
You Maybe Wondering
Product FAQs
1. How do I apply the cover to my Boss Mug?
Be sure to leave the flip top open when applying the lid to a hot drink. The pressure may cause the lid to rise otherwise.


Can I microwave my Boss Mug? Or, put it in the fridge?
No, Boss Mug is crafted to keep your drink warm for up to 6 hours and cold for up to 10 hours without being affected by external conditions. Therefore, putting it in the microwave or fridge will interfere with its insulation properties and void the warranty. We recommend chilling or heating your beverage to the desired temperature before using your Boss Mug.
Material & Size
Materials
• 18/8 high-quality Stainless Steel
• 100% BPA, BPS, BPF free, AS lid

Dimensions
• 12 oz / 350 ml
• 9 L x 9 W x 11.5 H (cms)
Cleaning & Care
Wash the Boss Thermo Mug as usual with soapy water.
Store upside down, without the lid on.
Do not microwave or freeze your Mug.
Orders, Shipping & Returns
Orders & Shipping
• Orders will be processed within 24 hours on business days. (Monday - Saturday)
• Shipping is free on all products, across India. Yay!

Delivery & Tracking
• Once your order is packed, you'll receive tracking details via email and SMS.
• Delivery timelines vary between 2-6 days depending on location.

Returns
• Products received in damaged condition will be replaced immediately.
• Free returns can be made within 7 days of the delivery date. It's simple, if you're not happy then we're not happy.

Read our detailed FAQ for more details.