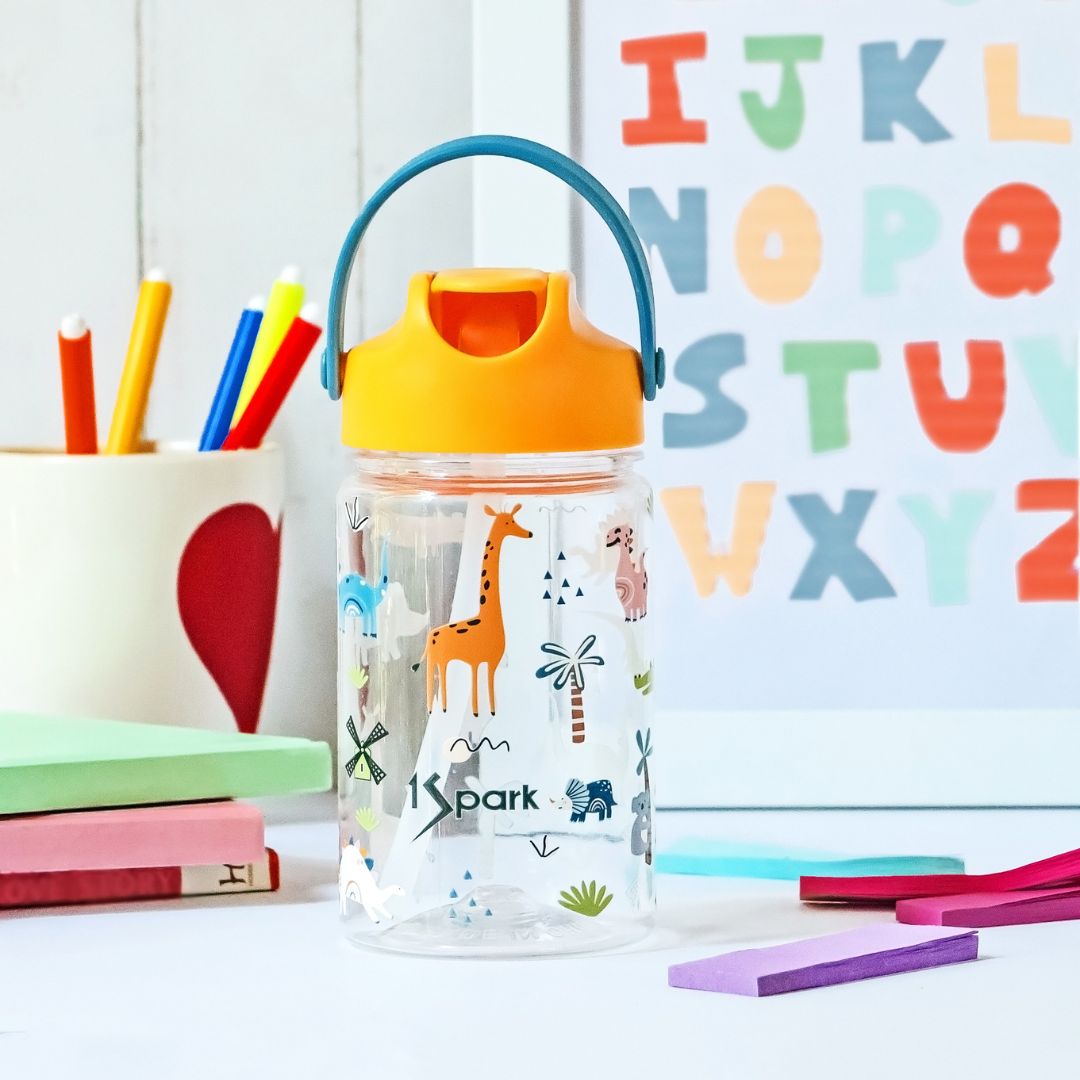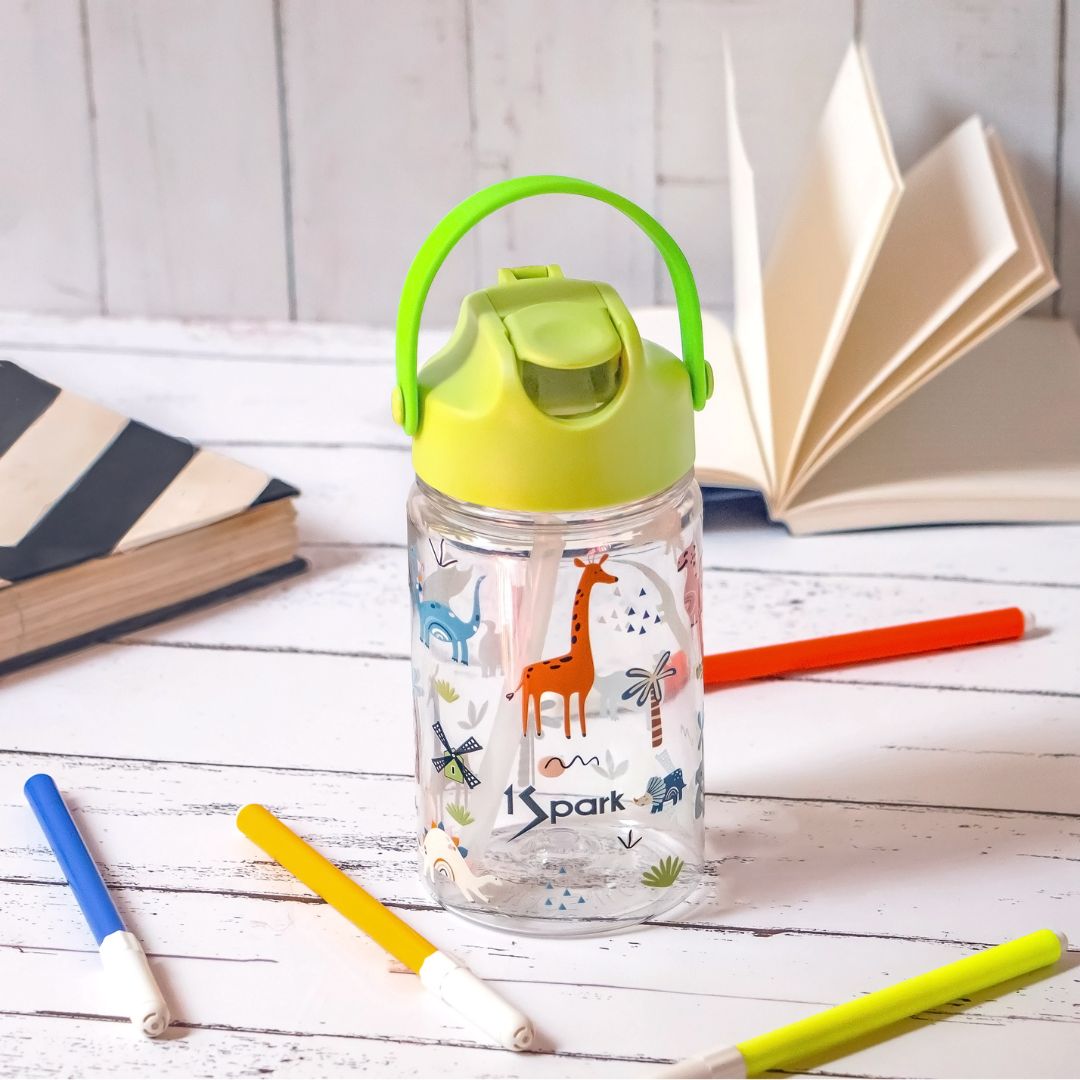 Kids Flip Straw Bottles - Tritan
₹ 999.00
Regular price
₹ 1,499.00
Subscription • Save
Say hello to our lightest, safest, wildest and cutest kids water bottle yet! Specifically designed with toddlers in mind, they are super-safe, food-grade, Tritan plastic bottles; completely free of all toxic materials. BPA-free, BPS-free, it features a soft Silicone spout for your little ones to sip gently at a comfortable pace.
Leak-proof when closed, spill proof when open or even, upside down – the straw extends to the bottom for tilt-free sipping and is removable for easy cleaning. Free cleaning brush is included and the extra-wide mouth makes cleaning a breeze. With adorable 4D animal characters embossed and  flexible, carry straps - your kiddos will love staying hydrated with water, milk, juice and everything in between.
Kids Flip Straw Bottles - Tritan
₹ 999.00
Regular price
₹ 1,499.00
Safe to Sip | Easy to Grip

✨ Made from Pure, Eastman Tritan plastic, certified as safest plastic in the world.
✨ Super lightweight
✨ Perfect for water, milk, juices, etc.
✨ Leak-proof Flip lid with safe, silicone Straw
✨ Flexible carry strap for easy grip
✨ Wide opening for complete cleaning
✨BPA and BPS-free
✨Shatter-proof & Odour-free
Made from
Pure Food Grade Eastman Tritan™
Tritan plastic is the safest plastic in the world. Not only is Tritan BPA-free, but it is also free from BPS (bisphenol S) and all other bisphenols. Certain Tritan plastics are also considered medical-grade & approved for use in medical devices.
Our water bottle is made from high-quality Tritan, which is shatter-proof, odorless, and built to last. It guarantees that no harmful chemicals leach into the water, keeping it pure and safe for your child.
International Standard
Zero Spills, Safe Lid
With a unique one-way flow, safety valve and airtight lid, our bottles are 100% watertight and leakproof - open or closed.
The self sealing straw is designed to ensure kids can drink unsupervised or to last drop without tilting. or even drink lying down without any fear of choking. No more soggy bags or clothes, either!
Better for your Kids Health
And their the Planet
The Kids Tritan Water Bottle not only keeps them refreshed throughout the day but also reduces the use of single-use plastic bottles, contributing to a greener planet.
Every 1 minute, 1 million Plastic Bottles are bought worldwide. Each taking 450+ years to get recycled.

1 Decision of using a Reusable can Spark a Wildfire of Change✨
Helpful Details, Hopefully
Material & Size
Materials
• Food grade Silicone Straw
• Tritan Bottle Body
• 100% BPA, BPS, BPF free, lid
• Silicone Carry Strap

Dimensions
• 15 oz / 450 ml
• 2.9 W x 5 H (inchs)
• Weight: 100 grams
Cleaning & Care
Wash the Bottle as usual with soapy water. Store upside down, without the lid on.
Do not microwave or freeze it.
Orders, Shipping & Returns
Orders & Shipping
• Orders will be processed within 24 hours on business days. (Monday - Saturday)
• Shipping is free on all products, across India. Yay!

Delivery & Tracking
•Once your order is packed, you'll receive tracking details via email and SMS.
• Delivery timelines vary between 2-6 days depending on location.

Returns
• Products received in damaged condition will be replaced immediately.
• Free Returns can be made within 7 days of the delivery date.

Read our detailed FAQ for more details.
Need Help?
Live Chat
With a real person.
And a happy hydrated one too ;)
Mon-Sat 9:00 AM to 6:00 PM (IST)
Talk Thirsty?
Give us a ring on 7304077882
Mon-Sat 9:00 AM to 6:00 PM (IST)
WhatsApp
Drop us hello on 7304077882
and we'll get back real soon.
Email Us
Write to us on care@1sparkdrinkware.com
and you'll hear back within 24 hours